February 18, 2016 by Laurelle
Emerging Sisterhood?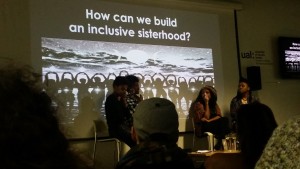 We are not all the same, and we don't have to huddle under the same umbrella.
I was pleased to get a ticket for "A Discussion on Black Women's Impact on Social Justice". A powerful title. An event organised by Independent Women and led by four panellists. A women's group at the University of the Arts London, their "philosophy is to create spaces for black creative women to thrive, whilst encouraging self-discovery and triumph against the racist and patriarchal nature of higher education".
With campaigns and movements for "Black Lives Matter" and "Say Her Name", there is already a global platform for opening the discussion on issues of race that need to be addressed. The discussion also focused on the Beyoncé's Formation and compared the reaction to her music video and Superbowl performance to Kendrick Lamar's Grammy performance.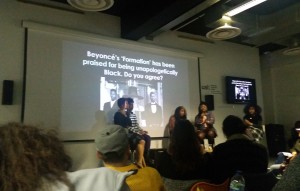 During the event there a lack of open discussion, there was little opportunity for the audience to speak and the panellists had a lack of appreciation and understanding of opposing comments. At points it was clear that they felt a strong need to defend their own view in an attempt to prove to the audience that they were right, which was unfortunate because there was the potential to have a very interesting debate and discussion with a range of opinions.
Yes, these women have their education and experiences, which clearly has led to their beliefs about the diversity and inequality of the world. However, there were many older and more experienced members of the audience with reasonable challenges to their arguments.
We are not at war. The issues faced in other parts of the world are not the same as in the UK, they never have been. Sadly these issues have always been there, social media has just made it visible to the rest of the world. This does not mean that we need to internalise it and pretend that we are facing the same battles here.
I am not sure what I expected from this talk, but I left feeling confused by the panellist's conflicting ideas and disturbed by the severity of their comments.
Thankfully this was only a discussion, but imagine if this was a real lecture – which I assume some of the panellists have given – young people who do not know their history or understand what is going on would take this as gospel.
Racism is a specific form of hate. It's a propaganda that allows one race to feel superior by discriminating against another. What these ladies were encouraging was combating racism with hate – is this not just as bad?
The world does not hate me, as the world does not know me yet. Therefore, I do not believe I fit into this sisterhood they are attempting to create.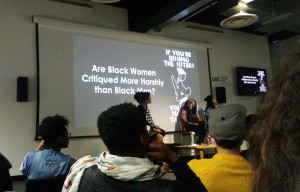 Black people are not all the same, especially in Britain. Unlike African Americans, our parents, grandparents or great-grand parents chose to immigrate, we do not have loss of identity because we know why they came here – and if you don't it boils down to you not knowing your history.
The "enemy" they're trying to create does not exist in the form that they are trying to portray.