May 1, 2016 by Laurelle
Shoreditch Radio: Review of the week's news Mon 25th April – Sun 1st May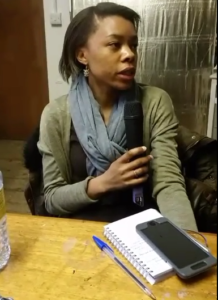 Shoreditch Radio presenter Liam Davis was joined by BT Sport Commentator Peter Drury to talk about the weekend's sport; also a review of the week's news with Laurelle Campbell and Lape Banjo.
The week has been dominated by two important stories; the Hillsborough verdict and Ken Livingstone's suspension from the Labour party.
The former Mayor of London was suspended for anti-Semitic comments during an interview about another Labour MP who had been suspended the previous day.
On Tuesday 26th April it was revealed that Naz Shah, MP for Bradford West and parliamentary private secretary to Shadow Chancellor, had written an article in 2015 and shared an image on Facebook promoting the idea of relocating Israel to the USA. In other comments she also compared Israel's part in the Israel/Gaza conflict to Nazis during World War Two. In addition to this she also referred to Hitler's actions during the war as legal.
After public apologies on social media and in the House of Commons, on Wednesday 27th April Shah was suspended from the Labour party.
On Thursday 28th April In a BBC Radio interview with Vanessa Feltz, Ken Livingston expressed that he believed that Shah's remarks were over the top but not anti-Semitic. During this interview he also said that Hitler supported Zionism. The former Mayor of London was later suspended that day.
With the race for the next London Mayor coming to the final hurdle this has been a blow to Sadiq Khan' s Labour campaign. A survey in Time Out London this week demonstrated the popularity of each candidate. However, it is important to note that polls although insightful are not set in concrete for the final result.
| | |
| --- | --- |
| Candidate – Party | % of survey |
| Sadiq Khan – Labour | 31 |
| Don't know | 25 |
| Zac Goldsmith – Conservatives | 20 |
| Would not vote | 8 |
| Peter Whittle – UKIP | 5 |
| Caroline Pidgeon – Lib Dem | 4 |
| Sian Berry – Green | 4 |
| George Galloway | 1 |
| Paul Golding – Britain First | 0 |
| David Furness – BNP | 0 |
Moving away from London politics, a historic verdict came to pass on Wednesday in Liverpool. After a two year inquest a jury ruled on Tuesday 26th April 2016 that the 96 victims of the Hillsborough football crush, 15th April 1989, were unlawfully killed. A big moment in UK policing. South Yorkshire Police are to be held accountable for their failing on the day. A failing to manage operationally and tactfully the football event on that day, a failing to protect and maintain crowd safety for the fans. These were people, not just statistics. The victims also included children younger than 16 years old; Jon-Paul Gilhooley who was only 10 years old, was one of the children.
This case highlights institutional corruption and a miscarriage of justice. For years South Yorkshire police and the establishment denied responsibility, and during this time they have vilified the victims and allowed the press to do the same. This verdict is vindication for the families after their courageous twenty seven year battle. Parents, like Margaret Aspinall, mother of victim James Aspinall were key during the campaign.
Also in the news, on Friday 29th April, The Bank of England revealed that credit card & loans debt are growing at the highest rate since 2005. In March this rose to £1.9 million, a 12 month growth rate of 9.7%. Although this across the whole country and felt by many, this is a big issue for Londoners. With rent and house prices increasing it is becoming more and more expensive to survive in the capital. Especially when employees do not always see a salary increase.